Featured Manufacturer – – March 2020 
KUNKLE VALVE offers a wide range of high-quality safety and relief valve products for industrial and commercial applications.
High quality safety and relief valves are synonymous with the name Kunkle. Erastus B. Kunkle worked for the Pennsylvania Railroad during a time when serious injury and mechanical problems could result from over-pressure of the locomotive engine. In 1875, E. B. Kunkle invented the "lock-up safety valve" designed to relieve engine pressure, which revolutionized the industry.

From its onset as the Fort Wayne Safety Valve Works in 1876, today, Kunkle Valve is a leading manufacturer of quality pressure and safety relief valves including cryogenics and non-hazardous gases to high temperature and vacuum to high pressure steam, air, gas, and liquid applications.
M&M Control offers a full line of Kunkle Valve products.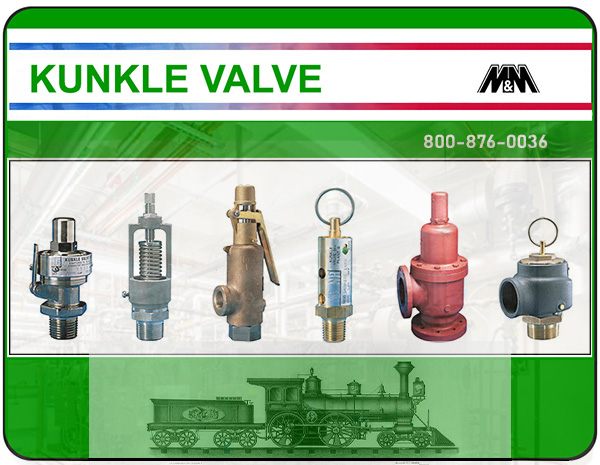 Kunkle safety and relief valve products range in size from 1/4-inch NPT through 6″ flange and are suitable for services ranging from cryogenic to 850° F. at set pressures ranging from vacuum to 6,500 psig.
Kunkle Valves are available in a wide range of materials including brass, bronze, carbon steel, stainless steel, cast iron, and aluminum and are are used in many applications such as steam turbines, steam boilers and generators, high pressure receivers, pumps, tanks, air lines and hydraulic systems.
Did you know . . . In addition to the Kunkle valve, Erastus Kunkle also developed a water gauge, gauge-cock, steam gauge, and, patented on Sept. 5, 1871, a "new and improved egg-beater, provided with self-acting valves!"
Call us TODAY about our special pricing or discounts!
Call or E-mail Now . . for Immediate Service, Pricing, and Delivery
* * * 800-876-0036 * * *
Phone: 847-356-0566   Fax: 847-356-0747      E-Mail: sales@mmcontrol.com